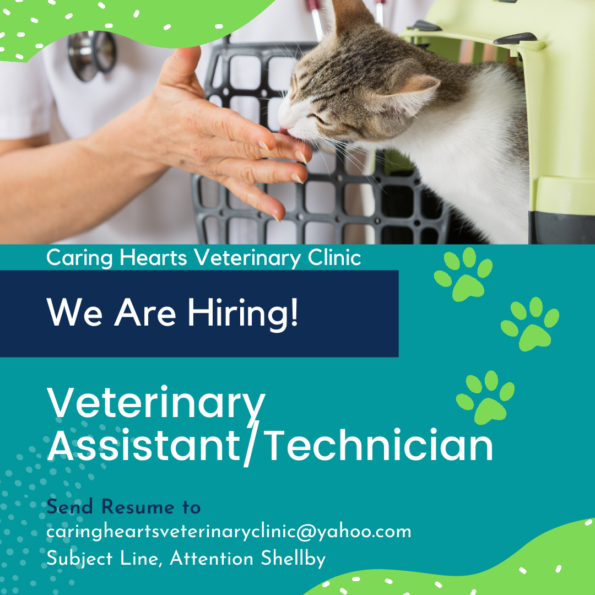 Caring Hearts is hiring for a vet assistant/tech!
We are a fast-paced small animal vet clinic on the West side of Wichita, KS. Our goal is to provide quality veterinary care for pets at a reasonable price for their owners. We strive to give our patients and clients a good experience when they come to our clinic. Caring Hearts demonstrates exceptional animal care, knowledge, and skills- all delivered in a friendly, trustworthy, and compassionate manner.
Required Qualifications:
-Must be 18 years of age.
-Experience in a vet office preferred, but willing to train the right person.
-Specific Responsibilities and Duties
-Basic animal handling & care.
-Rooming clients/patients with a friendly attitude.
-Preparing paperwork, vaccines, etc.
-Prepping patients for surgery.
-Assisting vet with surgeries.
-Taking care of boarders approx. 1 to 2 weekends/month.
-Work some Saturday's when needed.
Desired Personality Characteristics:
-Positive attitude.
-Ability to multi-task.
-Willingness to work with a team.
-Dependability.
-Strong communication skills.
-Dedicated to helping people and their pets in a compassionate manner.
Subject line: Attention Shellby